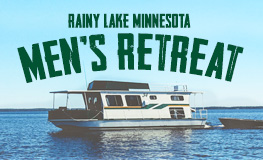 Rainy Lake Men's Retreat
September 12th - September 17th, 2018
$450
Sept. 12-17, 2018
Sleeping on house boats, relaxing, fishing if you choose, and did I say, relaxing? This is a slow-paced, relaxing retreat to connect with God and other men. Cost is $450, and includes lodging, food and transportation. If you choose to fish, fishing licenses and boat costs will be $100 extra (you can choose this add-on in the registration process).
Women's Retreat
September 14th - September 16th, 2018
$75
Need a relaxing weekend and time to connect with other women on more than just a surface level? Then this weekend is for you! Campfires, yoga, Beth Moore simulcast, walking, biking and much more. Space is limited to 16 overnight guests. Limited registration for those unable to stay overnight. Click here to email Karyn Hilliard for any quesitons.
Cost: $75 includes housing, meals and simulcast.
Friday, Sept. 14 at 7:00 PM through Sunday, Sept. 16 at 10:00 AM