Growth Track Course - Kearney Campus
June 3rd - July 8th, 2018
"Keep in Step With the Spirit" is a six-week discipleship course for those in the Run Straight or Give It All spiritual stages. For more information on Growth Track and the spiritual stages, click here
Crossroads Center Serve Day
June 23rd, 2018
New Life volunteers will be doing yard work and other miscellaneous projects to assist the mission of Crossroads Center which is to provide spiritually-based housing and meals for those in need.
Families and Life Groups are encouraged to serve together! Any children attending this serve day will need to be able to serve alongside their parents at all times.
Saturday, June 23, 8:30-11:00am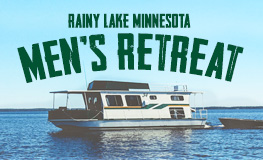 Rainy Lake Men's Retreat
September 12th - September 17th, 2018
$450
Sept. 12-17, 2018
Sleeping on house boats, relaxing, fishing if you choose, and did I say, relaxing? This is a slow-paced, relaxing retreat to connect with God and other men. Cost is $450, and includes lodging, food and transportation. If you choose to fish, fishing licenses and boat costs will be $100 extra (you can choose this add-on in the registration process).